The Tropic World building at Brookfield Zoo, near Chicago, is legendary for its scale and the ambitiousness of its exhibitry. The three great rooms, representing different geographic area, Africa, South America, and Asia, are each big enough to be a zeppelin hanger. When the Zoo realized that the building's original design, which allowed no natural light in, meant that nothing could be grown inside, it added skylights in the ceiling centers, and the exhibit was no longer known to Zoo staffers as "Tragic World."
Because the ceiling was 60 feet up and the floors were a tangle of irregular rocks and steel trees with rebar branches, the contractor hung upside-down scaffolding from the ceiling and skylight workers entered from the roof. My daily commute was to climb the ladder up to the roof, in through a trapdoor, and across the scaffolding where I would climb onto a swing stage (the same equipment used by high-rise window washers) and lower myself down the tall walls to where I could jump to an adjacent swing stage, completing the murals in large rectangular sections.
Here's a video of me painting Tropic World, including a time-lapse.
I had more to say about this job in a Mostly True Tale called Primate Behavior.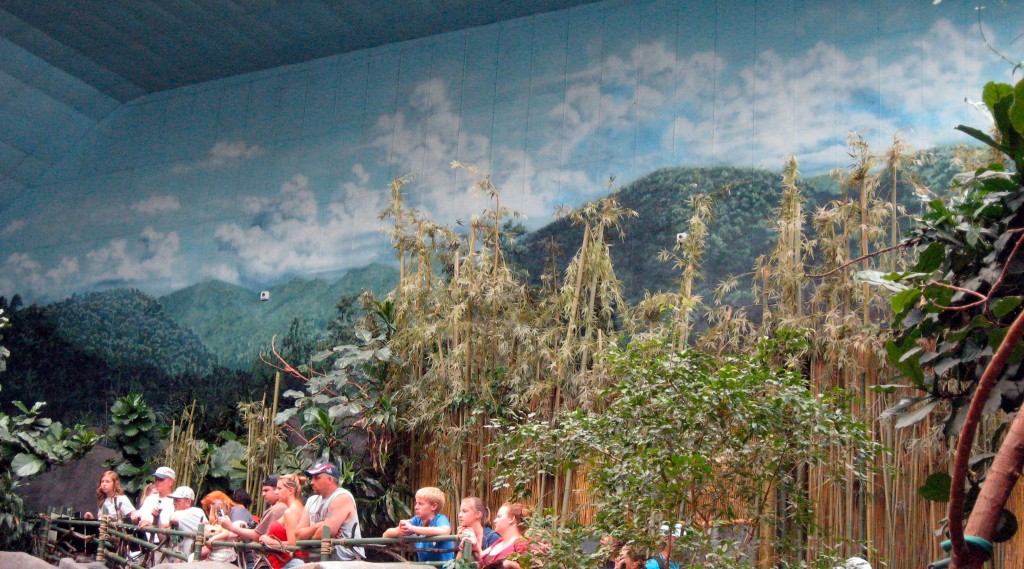 A friend, Kate Wallace, recently sent us the three photos shown below, taken September 2016, and I was thrilled to see the murals still looking like new. Thanks again, Kate!