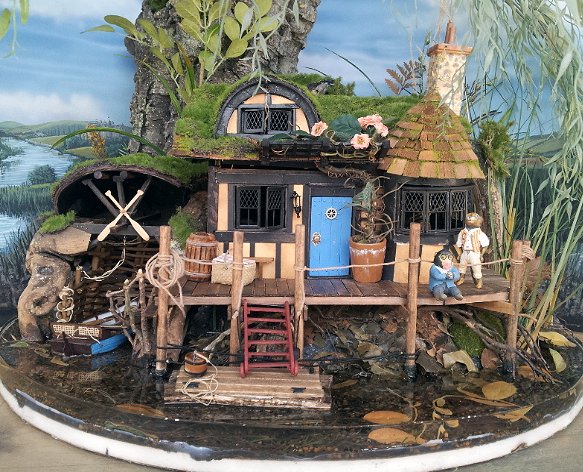 I've been a lifelong fan of Kenneth Grahame's whimsical 1908 novel The Wind in the Willows, a portrait of British Society before the Great War as reflected in the lives of the animal community living along the upper Thames. I read it to my kids at bedtime and my students in 4th and 5th grades. It's not only entertaining but an admirable work of literature, as satisfying to adults as to children.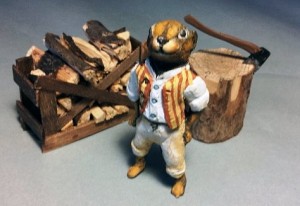 The central character is Ratty, a stalwart, dependable water rat whose home is on the river and who loves messing about in boats.
I've seen at least seven film versions of the story with live actors, drawn animation and stop-motion animation, as well as a play and several graphic and illustrated versions of the novel. None of them seemed to me to do justice to the homey, welcoming character of Ratty's riverbank cottage as alluded to in the original novel.

The satisfaction I had gained from building a cypress swamp diorama had only served to fuel my compulsion for this kind of work. I was seized with the idea to create the ultimate Rat's House. The product of several months of research, drawing and building is a two-foot diameter circular diorama with a 30″ tall mural backdrop.
Nestled among the reeds of the riverbank, tucked into the roots of an ancient willow, beneath its weeping branches is a post-and-beam cottage with a moss-covered roof surrounded on two sides by a gallery suspended above the water on pilings. A boat house is on the third side, housing Ratty's blue and white rowing skiff (built to match the English pleasure boats of that era).
Ratty's house is fully furnished and has electric candle lights, with a flickering fire in the hearth and a turret on one corner housing a mounted brass telescope to espy up and down the river.
On the front deck are figures of Rat and his companion, Mole, as well as their picnic basket with bottles of root and ginger beer.
In the backdrop mural, far up the river can be seen the stately Tudor mansion, Toad Hall, home to their eccentric friend, Thaddeus Toad.
Aside from the pleasure of existing in this benign alternate reality while building it, I have the regular pleasure of having visitors react with, "Oh, I could just live there!"