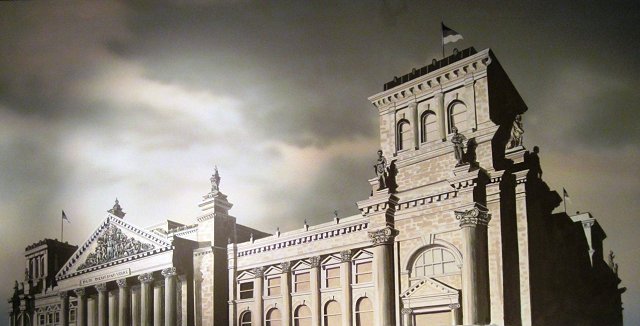 In 2012 I painted this mural for an exhibit designed by ThemeWorks for the Ronald Reagan Presidential Library about the fall of the Berlin Wall. They would build a recreation of the wall, complete with concertina wire and graffiti, in the corner of a room, and I was supposed to paint East Berlin on the room walls beyond and above it.
I'd seen the actual wall and went into East Berlin for a few hours in the summer of 1968 while doing a college "work abroad " program through Lufthansa and I remember very distinctly the palpable sense of depression and doom which seemed to hang over the city like a grey cloud. It was as if passing through the Check Point Charlie, the only gate in the American sector of West Berlin, one had descended into a tomb, perhaps the repository of the unhappiness and hopelessness of millions of Germans, trapped there by the Russia onslaught at the end of WWII. I was determined to convey that feeling in the mural.
The designer was in complete accord and we agreed on an overcast sky and grey color palette. Unfortunately, budget constraints limited the multiple buildings I had planned and we settled on the Reichstag Building, the original German seat of government which was being rebuilt after the bombing which nearly leveled it.
So what you see is one building, about 18 ft. long, which only extends down to the point at which it drops from view below the wall.
I can recommend a visit to the Library, dramatically perched on a mountain north of Los Angeles. It contains a section of the real wall, Reagan's Air Force One and vehicle entourage as well as a reproduction of the oval office; interesting modern history.