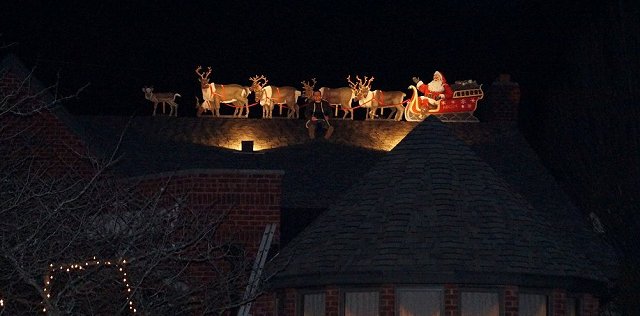 Back in the last century, in 1992 A.D., when I was doing only residential murals as a sideline to being a cabinet maker, I was asked by a client in the Chicago suburbs to create a Santa Claus with sleigh and a full team of reindeer to go on his roof at Christmas time.
We began with delusional aspirations: a full-scale Santa and team in three dimensions. Budget, weather concerns and reality in general had their usual dampening effect on our glorious vision, and we settled on a plywood silhouette painted to look 3-D with Santa's height limited to four feet so we could use 4′ x 8′ sheets of treated plywood mounted along the ridge of the roof, lit by spotlights along the gutter. The finished result was so successful that it became an icon for the neighborhood, won prizes in home decorating contests and got lots of local press.
The following 21 Chicago winters took their toll, and in 2013 the family decided Santa was too frail to go on. In response, the neighbors assembled in a surly mob armed with pitchforks and torches (well, almost). In the intervening years I had moved three times and was now in Evanston, north of Chicago, but somehow they found me. I was working mostly for zoos and museums at that point, but clearly I could not refuse the opportunity to bring joy into the hearts of suburban boys and girls at that magic time of year. Plus, business was sorta slow. So I put way too many hours into the project but was determined that the new Santa should be a vast improvement over his predecessor created in the dim, early era of Googleplex. Compare them in the photos and decide for yourself. And the 2013 team features a young reindeer out front with a very red nose. Some would even say it glows.
See also a very brief video of me painting the reindeer in my "studio" (my front hallway) at home.
The outdoor photo of the red-nosed reindeer leading the team came out a little blurry, here's a clearer one taken in the studio. Alyce liked this little guy, he was cute enough to keep around the house.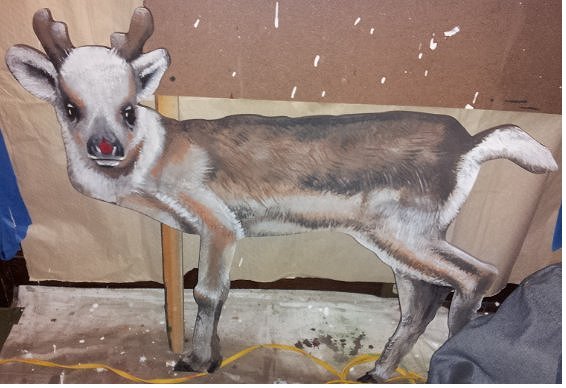 Below are photos of the original set built and painted in 1992. I think I like the new set design better, what do you think? You can see the client's testimonial here.