I sometimes have a fun opportunity to "fool the eye" with the trick known by its French name, trompe l'oeil (pronounced "tromp loy"), as in the first example above, at the Louisville Zoo, as described in my Mostly True Tale, Hidden Features, or the Art of Camouflage. The second and third photos are the stage at the historic Keweenaw Masonic Lodge in Michigan, and the fourth is a wine cellar at Café Iberico in Chicago.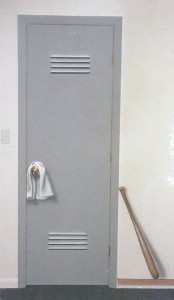 Here's a locker room door with a towel hanging over the doorknob and a baseball bat leaning against the nearby wall, painted for a young boy's bedroom in the Chicago suburbs.
More rare is the chance to create wood out of metal, as I did (at least in appearance) with the doors you see below. The first three were done for the Downtown Aquarium Restaurant in Houston, where I also did a great many murals, and the fourth for a residential client in Pennsylvania.
Here are a few more.