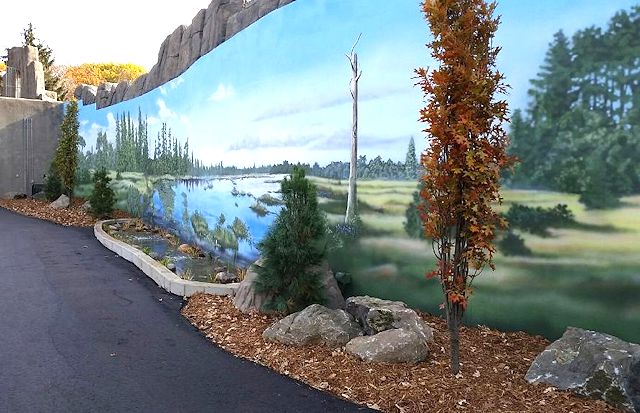 In October 2015 I painted this marsh scene behind the new Kodiak Bear exhibit at the Wildwood Zoo in Marshfield, Wisconsin, on a long wall facing the Zoo entrance.
At the foot of the mural you can see some marsh plants in a trough fed with wash water from the bears' habitat on the other side of the wall. It's a demonstration that the water which exits the trough at the far end has been cleaned up and made reusable by the marsh plants. The photo is by Steve Burns of the Zoo staff.
It had been a while since I've used a boom truck. I've never met one I thought was even halfway acceptable: they are badly engineered, seeming to be cobbled together by off-the-shelf parts, they're jerky, dangerous and hard to control. Still, having said that, they do allow one to swing across the face of an expanse of wall, zoom and swoop up into a crisp fall sky and spin around like a drunken Superman. Next time, I'm gonna bring a cape.
Alyce took a few short videos of me just for fun. Here's my intro to the project:
"Flying" on the boom truck:
Here's a quick panorama as I added finishing touches: